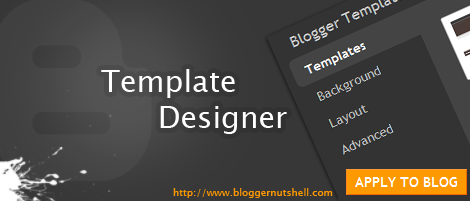 After static pages , blogger team introduced yet another tool known as template designer for us.With the help of this tool anyone can easily customize the theme of there blog. Now lets see features of this easy to use tool.
Features :
? Templates
You can choose from 12 themes provided by josh peterson
? Background
You can do two things with the help of this tab.
1. Change background image
2. Select the main color scheme
? Layout
You can change / set the body layout,footer layout and width
1. Body layout
2. Footer layout

3. Adjust width
? Advanced
You will have full control ( colors,fonts ) of every single element like blog title ,page text ..etc
Blogger team is really working hard to improve the software.
Kudos to the team
Note : Tell us What do you think of this new tool introduced by blogger through comments